For the full range of Ruger rifles visit

www.ruger-firearms.com

If we don't have a particular rifle in stock we can order it in for you.

Sturm, Ruger & Company is an American-based manufacturing company composed of three divisions: Ruger Firearms, Ruger Investment Castings, and Ruger Golf. The best known division is the first one, because Sturm, Ruger was formed as a firearms company.

Select a rifle model below for more info :

M77 Mark II | M77 Hawkeye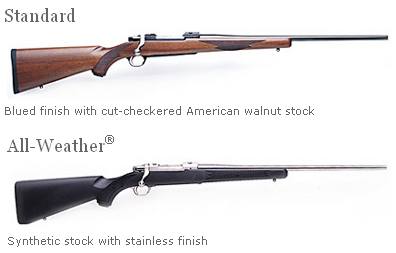 Call us for best price on (09) 579 3771
Features
Ruger M77 Mark II rifles are available in over 20 calibers from the flat-shooting .204 Ruger varmint cartridge, all the way up to the super-powerful .458 Lott African cartridge, suitable for use on elephants, Cape buffalo, and the largest, most dangerous game. ...More

A multitude of model lines are available, including Compact rifles; Frontier rifles which allow for forward mounted scopes; Target rifles with precision heavyweight hammer forged barrels, laminated stocks, and target triggers; and All-Weather® models, which feature corrosion-resistant stainless steel components with impervious synthetic stocks. The Ruger M77 Mark II rifles are made entirely in America, and all feature the patented Ruger scope mounting system with bases that can never shoot loose and Ruger scope rings included at no extra charge (a $65 value). Whether Standard, Compact, Frontier, Target, Deluxe, All-Weather, Sporters, Ultralights, International, or left-handed models, all give rugged Ruger reliability at an affordable price.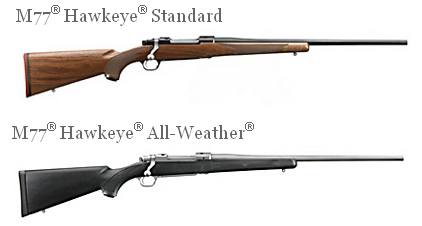 Call us for best price on (09) 579 3771
Features
The New Ruger M77® Hawkeye® rifles offer shooters a host of features and functional enhancements that deliver top value and provide rewarding shooting experience. With the enhanced ergonomics, improved checkering of the walnut stock, and the new LC6™ trigger, Ruger M77 Hawkeye rifles will impress knowledgeable shooters with their performance-improving features. In addition, these bolt action rifles contain all the value-added characteristics of yesterday's Ruger rifles- positive floor plate latch, integral scope mounts, three-position safety and hammer forged barrels, and of course they're made in America.
Both versions of the M77® Hawkeye® rifle -- walnut with matte blued finish, and the synthetic with stainless finish-- feature a new and improved trigger. The smooth, crisp Ruger LC6™ trigger delivers improved out-of-the-box trigger pull for increased accuracy on the range and in the field. The steel floor plate, with the Ruger Logo, has a patented floor plate latch for easy unloading without having to chamber each cartridge. The patented design eliminates accidental release or "dumping" of your ammunition. Like the Ruger M77® Mark II rifles, the new M77® Hawkeye® features a Mauser-type controlled feed extractor for reliable performance and a 3-position safety that allows the bolt to be locked - or the rifle to be loaded and unloaded with the safety on. Free scope rings , which mount on the integral scope bases, machined into each receiver, are included with every Ruger M77 Hawkeye rifle.